5 Proven Ways To Build Resilience In Your Child
Emotionally Intelligent Children Have Parents Who Do These Things
Emotional intelligence is defined as "the capacity to be aware of, control, and express one's emotions, and to handle interpersonal relationships with good judgement & empathy".
Previously thought of as a 'soft skill' & unimportant, it is clear that many of us now know just how important it is.
The research shows that your level of emotional intelligence is the strongest predictor of your job performance & success (including the wage you will be paid), the health of your relationships, & your overall happiness in life. 
Emotionally intelligence is an incredibly important trait to cultivate in your child, as it is one of the foundational building blocks of resilience.
(To learn more about simple ways you can build resilience in your child, CLICK HERE for our free guide).
The good news is that emotional intelligence is not a fixed trait, which means that we can all grow & develop it over time. 
Emotional intelligence is made up of 3 major components:
Self awareness 
Mastery over emotions 
Stability and empathy in relationships
There are some practical things that you can do as a parent to promote your child's emotional intelligence growth in these key areas.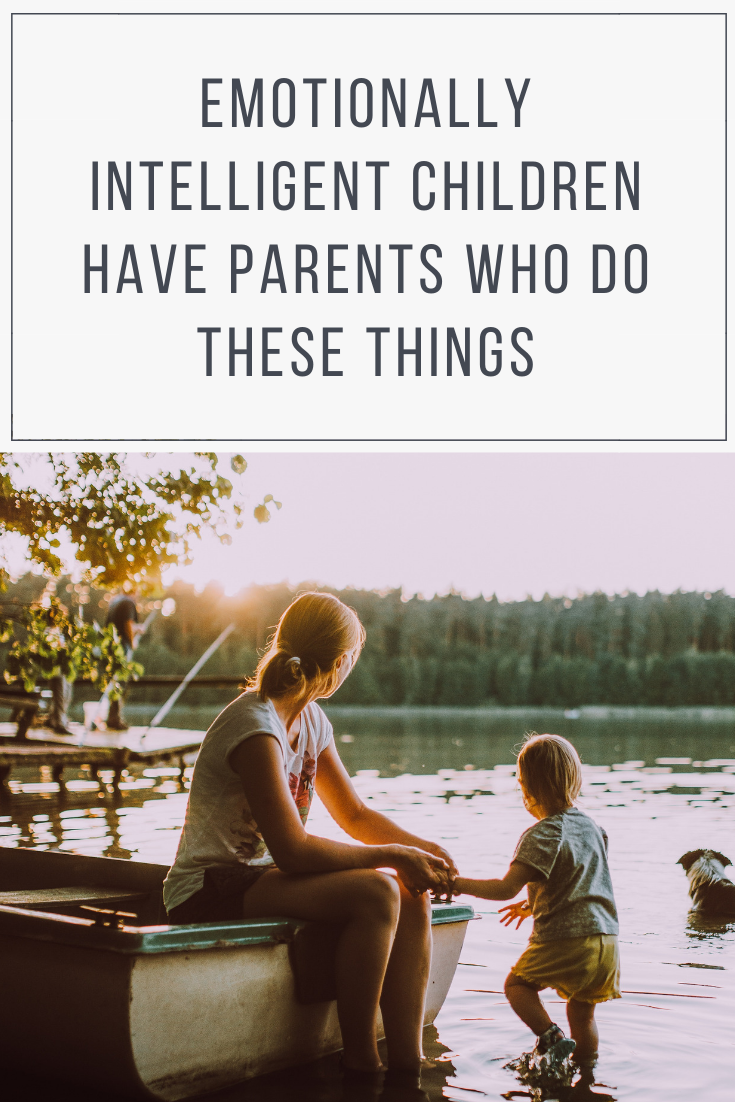 EMOTIONALLY INTELLIGENT CHILDREN HAVE PARENTS WHO DO THESE THINGS:
1
THEY HAVE A HEALTHY CLOSE RELATIONSHIP WITH THEIR CHILD
Parents are the most important relationship in a child's life as they are growing up. Creating emotional warmth within your relationship, ensures a safe place for your child to share their struggles. This doesn't mean the absence of boundaries, but rather cultivating the relationship connection over anything else.
2
THEY TALK ABOUT EMOTIONS
When you talk about feelings as a normal part of dialogue in your home, it takes the shame away. This means that children don't feel the need to hide their feelings.
The more you talk about emotions with your family, the more you are increasing your child's self awareness of their own emotions.
3
THEY ALLOW EMOTIONS TO BE EXPRESSED
When emotions are suppressed, they don't go away but rather build up into unhealthy expressions that hurt even more people. We all need a safe place to express our emotions that we otherwise don't feel comfortable expressing. Home is typically the place we feel safest to express our emotions.
Children shouldn't be in trouble for thinking thoughts or feeling feelings. The aim is for your family environment to be a place of freedom of expression of emotions.
4
THEY DEMONSTRATE POSITIVE WAYS TO HANDLE NEGATIVE EMOTIONS
Developing emotional intelligence is growing in maturity at how we process emotions – especially negative ones.
Positive ways to deal with negative emotions could include: talking, hugs, exercise, a good nights sleep, a hot bath, one on one time together, yelling into a pillow, hitting something safe, going for a run, or journalling.
5
THEY MEND BROKEN RELATIONSHIPS AFTER CONFLICT
No one is perfect. Whether it's a conflict between children, or even when you as a parent make a mistake or lose your temper, it's important to mend the broken relationship.
Mending broken relationships are best done straight after the conflict once everyone has calmed down. It may mean saying "sorry" and taking responsibility for behavior, or hurtful words or emotions.
6
THEY DEMONSTRATE PERSPECTIVE-TAKING IN CONFLICT RESOLUTION
Learning to get along with others, & resolving conflict, is a key component of emotional intelligence. In order to resolve conflict, we must first be able to see the situation from another person's perspective. This requires empathy.
During conflict resolution, ask your child –
"How do you think your behavior made them feel?"
"Why do you think they might have said or done what they did?"
By using perspective-taking during the conflict resolution process, you are also developing your child's empathy.
7
THEY DON'T HIDE THEIR OWN EMOTIONS
It is ok to normalize your bad days or emotions with your child. You don't need to show "emotional strength" by appearing to never be affected. We demonstrate emotional strength and maturity by showing our emotions & how we deal with them.
A few boundaries in sharing your emotions with your child:
Don't burden your child with adult issues & details they have no power over solving
Don't look to them for emotional support
Don't share things that would undermine the key relationships in their world
When you show them the emotion, show them how you deal with it & resolve it
For example, you might say:
"I had a frustrating day at work where something that I wanted to happen, didn't happen & now I'm feeling frustrated & angry. I'm ok though. I'm going to go for a walk after dinner & I know that will help me feel better."
"I'm just really tired after a long day of doing lots of things. Sometimes adults also get tired & we need a break. I'm going to go to bed early tonight & I know that will help me feel better in the morning."
8
THEY TAKE CARE OF THEIR OWN EMOTIONAL HEALTH & ASK FOR HELP WHEN THEY NEED IT
Your children are watching what you do, more than they are listening to what you say.
Healthy emotional management is knowing when you need help & having the courage to ask for it. This may be asking for help from family & friends, or reaching out to a professional when you need it.
9
THEY READ BOOKS TO THEIR CHILDREN
Reading books with your child develops their emotional intelligence. Reading stories increases a child's capacity for empathy as they take on the perspective of the characters in the stories. Reading together also strengthens the relationship bond between parents and children, which promotes future healthy relationships.
(If you're looking for books that promote resilience & courage, check out our children's book "The Boy Who Stood Up Tall" available wherever books are sold. CLICK HERE for more).
10
THEY ASK THEIR CHILD HOW THEY ARE FEELING
This simple question facilitates a child's self awareness of their own emotions, and opens conversations & strategies for dealing with emotions.
You can increase your child's emotional intelligence, simply by asking them "How are you feeling?"
11
THEY FOCUS ON THE HEART OF THE PROBLEM, RATHER THAN JUST EXTERNAL BEHAVIOR
Many times, emotional outbursts from our children occur because there is another problem going on. Whether it's a situation happening, or your child struggles with emotional regulation, parents who focus on the heart of the problem (rather than nit pick every tiny behavior) will develop the right focus & emotional maturity in their children.
Emotional intelligence is a critical skill we need to cultivate in our children to prepare them for success in a changing world.
As we intentionally add these practices into our lives and homes, our children will develop mature and healthy ways of dealing with their emotions, & important relationships in their world.