5 Proven Ways To Build Resilience In Your Child
Dealing with your Child's Aggressive Behavior
It can be unsettling when your child is regularly frustrated, angry and engaging in aggressive behavior.
This behavior could be kicking, biting, pulling hair, hitting, throwing objects or breaking things. 
Many parents believe that if their child is aggressive towards others, then they must be failing at parenting.
You don't just worry about how to deal with your child's current behavior, you worry what might happen in the future if things continue to escalate.
It can be scary, wondering if you're raising an individual who is going to be abusive or violent to others.
This is particularly unsettling and confusing if your family home doesn't include aggression and violence. You're not sure where this behavior is coming from & if there's something innately 'wrong' with your child.
The truth is, anger and aggressive behavior is normal is young childhood. 
It is a normal part of a child's emotional development as they learn appropriate ways of dealing with their emotions.
If you child is still significantly struggling with aggressive behavior as they grow older, it is often a sign that something else is going on.
NORMAL DEVELOPMENT
Research shows that aggressive behavior is a normal part of childhood development, with almost all young children displaying it at some point.
This is because young children do not have the neurological ability to control their emotions, and if they experience big feelings (like anger) they don't have appropriate ways of expressing it.
This behavior usually peaks around 2-3 years old and in most cases naturally drops around 5 years old. 
CONTINUED AGGRESSIVE BEHAVIOR 
After the age of 5 years old, continued consistent aggressive behavior occurs because of these main reasons:
1.Children become aggressive if they regularly witness aggression. If violence & anger is a regular part of their environment in home or at school, children follow example and believe this is an appropriate way of dealing with anger and frustration. In these cases, they are following your lead. 
2. Children become aggressive because they neurologically struggle with emotional regulation:  When a child has additional needs, this usually affects their ability to regulate their own emotions. This occurs with children with Sensory Processing Disorder (SPD); Attentional Deficit Hyperactivity Disorder (ADHD); Autism; or Learning Disorders. 
3. Children become aggressive because they are struggling with anxiety or mood disorders: Fear is an emotional state that activates our fight or flight response physiologically. Anxiety is a big emotion for any child to experience, and sometimes leads to aggressive behavior.
4. Children become aggressive because of situational triggers: if a child is currently going through major family difficulties (such as the death of a loved one, or divorce of their parents); or emotional trauma; or being the victim of bullying; or experiencing physical pain; these situations are triggers for big emotions that children don't have the capacity to process.
Anger and aggressive behavior is not usually the problem, but the symptom of a problem. 
If you can identify what is truly going on for your own child, you can then make a plan to support them in a deeper and more effective way.
Children who display anger or aggressive behavior need just as much empathy as highly emotional or sensitive children. They are similarly struggling with big emotions, but just express it in different ways.
HOW TO DEAL WITH AGGRESSIVE BEHAVIOR – FOR PARENTS
1.DON'T TAKE IT PERSONALLY
Unless you are demonstrating violence or aggressive behavior in the home, your child's behavior is not a reflection of your "bad" parenting, but rather a sign that your child isn't coping.
This is not your fault and blaming yourself is only going to cause you to not be able to show up for your child like they need you too.
This is not you. This is your child having a hard time.
2.DISCERN WHAT THE REAL PROBLEM IS
If your child is over the age of 5 years old and still showing consistent aggressive behavior there is ALWAYS an underlying reason.
The goal is to deal with the real problem, not just the symptom of the problem.
3.PRIORITIZE YOUR RELATIONSHIP OVER DISCIPLINE
When a child regularly misbehaves, as parents we naturally focus on the negative behavior. But constant criticism & punishment will hurt your relationship with your child.
Your child needs you; and they need a positive relationship with you in order to thrive in their future.
Your relationship & connection with them must remain your priority over everything else.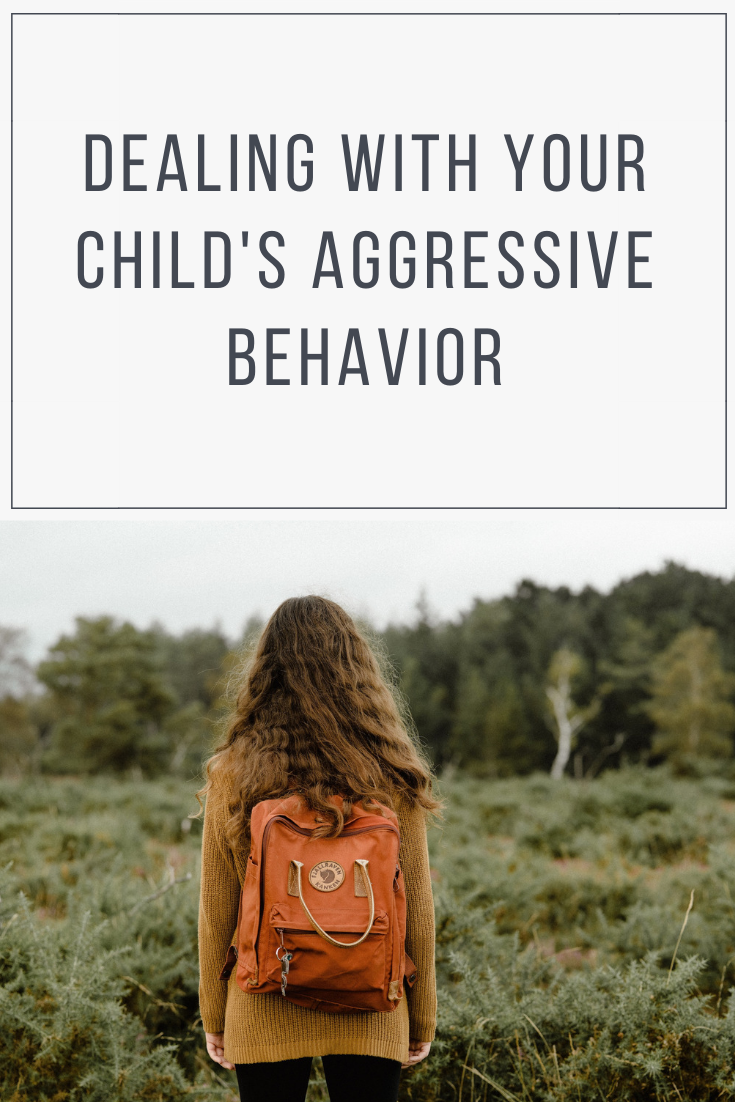 HOW TO DEAL WITH YOUR CHILD'S AGGRESSIVE BEHAVIOR 
1.DON'T BECOME PHYSICALLY AGGRESSIVE BACK
Your child is watching your example more than they're listening to your advice. Usually our child's aggressive behavior is a trigger for us as parents (and makes us angry). But you cannot teach your child not to be aggressive, by being aggressive.
2.RESPOND IMMEDIATELY TO AVOID OTHERS FROM BECOMING HURT
Do not wait for them to work it out themselves. If you see it's likely that another person is about to become hurt or major property damage is about to occur, intervene.
Remove your child from the situation and into a calmer environment.
3.HELP YOUR CHILD RETURN TO A STATE OF CALM
There is no point trying to "teach" your child a more appropriate response while they are still highly emotional. Your initial goal needs to be to help them return to a calm state.
Every child is different in what helps them return to calm. Some ideas may be to give them time alone in their room, to sit with them in a separate room, give them an audiobook to listen to, give them a weighted blanket to wrap themselves in, or give them a tight hug.
4.HAVE THE TEACHABLE MOMENT
Once your child has returned to a calm state, then you can have a discussion about more appropriate ways of dealing with anger.
Teach them the difference between their feelings of anger and what we do when we express anger.
Feeling angry isn't bad, but what we do with our anger is our responsibility.
5.DISCIPLINE IS RESPONSIBILITY 
Remember that the goal of discipline is to train a child and help them learn better choices for next time.
Do not punish your child for having angry feelings – this is part of being human.
If their behavior has hurt another person, help them apologize and make a mends in the relationship. If they are older and their behavior has significantly damaged property, they need to take responsibility for that.
Note: if your child is aggressive because they have additional needs, in many cases they cannot control themselves. You need to decide based on your child's specific situation, whether discipline is necessary (or it isn't going to make any difference in the situation).
6.BE CONSISTENT
Remember that your child isn't going to learn something because you did it one time.
The process of learning is full of mistakes and failures along the way. Your job is to stay as consistent as possible in your response.
A WORD ON SAFETY
As children grow older, their ability to hurt you or someone else also increases. It is important with all of these strategies that you & others are safe. If you are concerned for your safety please get professional help.
GETTING PROFESSIONAL HELP
If you have tried these strategies and nothing has worked, or you think that there may be an underlying issue with your child's behavior, then please get professional help.
Parents often wait years after seeing something may be wrong with their child, before they seek professional help. There is so much that can be resolved and helped with the right support in place.
Speak with your pediatrician, occupational therapist or a clinical psychologist for further support.
Children who are struggling to regulate their emotions and demonstrating aggressive behavior need just as much love and support from those in their world, as other children.
As we approach them with empathy and connection, we are able to teach them how to deal with their emotions in a more appropriate and positive manner.